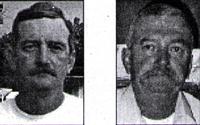 From the Bakersfield Californian: Bruce Rory Campbell, Dec. 8, 1949 - Dec. 30, 2001
Bruce Rory Campbell had just celebrated his 52nd birthday and spent a quiet Christmas with his family. Bruce was born and raised in Bakersfield where he graduated from South High School in 1968. He served in the Navy from 1969 to 1975. Bruce previously worked for the City of Bakersfield before becoming a respected welder, currently employed with TIC. He designed and assisted with special projects for friends, neighbors and family.
Bruce was a loving husband, father, son, brother and friend, dedicated to providing for his family.
Bruce is preceded in death by his mother, Dorothy Snodgrass-Campbell. He is survived by his wife, Nancy Waldon-Campbell; daughters Kristen, Wendy and Rebecca; father, William (Ranger Bill) Campbell; sister and brother-in-law, Susie and Jack Thorp, and their daughters, Jenny and Mindy of Hesperia.
Greenlawn Southwest Mortuary