ANNOUNCEMENTS
The Next Secret Sauce Ingredient: Texting (3-18-19)
I've told you about how frustrating email can be when trying to contact people after 50 years. Useless email addresses and spam filters everywhere.
Trying to call them up is even worse. You actually need to think on your feet and get your message out as quickly as possible — if you are lucky enough to get a live person on the other end of the line. Plus, you are really invading somebody's life who did not ask for your intrusion. That's why they pay people to make cold calls.
By contrast, TEXTING has many advantages that email and phones don't have.
Here's a few, right off the top of my head:
1. It doesn't make you feel like you are intruding so much. Texts are easy to ignore by the receiving party.
2. There does not appear to be the same type of spam or junk mail filters used in the text messaging world. If you have a valid receiving number, you should be able to get through.
3. Repeatability. Just compose a really good message and send it to everybody, with possibly one small bit of personalization.
4. WhitePages.com indicates which phone numbers are cell phones. This raises your chances of getting more useful, working numbers.
5. If you do send to a bad number (does not exist or not a cell phone) the messaging system will give you that feedback immediately. Then you can take that number off your list.
6. After you send a text and it does not bounce, you can be reasonably certain that there is a person on the other end. It may then be worthwhile to try to call them.
7. Text messaging is essentially free, unlike the US Post Office.
8. And finally, texting is what almost everybody uses these days. People are accustomed to sending and receiving — and they are probably walking around with a cell phone attached to them right now!
I, personally, sent out over 150 text messages. Many did not respond, others said no to the reunion, and a surprising number of them ended up signing onto the website and/or attending the reunion, whether they responded to the message or not!
Now, for those who want to create a great reunion, this next part is for you (non-classmates out there). I'll give you the actual texts that I sent out.
Here's the first one, sent out in early May, 2018.
====================================================
Are you the [insert classmate name here] that went to South High in 1968? If so, you are invited to the South High Class of 1968 50th Reunion, to be held October 13, 2018 in Bakersfield. Please go to our free website at SouthHigh68.com and sign in to learn more and to get in touch with others in our 1968 class. The website is exclusively for our South High class and is advertising-free. To sign in, just select your name from the list and type in your email address. You can add other information and upload photos if you wish. 50 years is a long time and others are wondering what you have been up to all these years. We have about 150 classmates signed into the site now and most of them are planning on attending the reunion. There is no obligation to go to the reunion by signing in, however. If not interested, please text me back with "no interest in the 50th reunion" and we'll take you off the Class of 1968 list and we won't bug you anymore. Thanks, Jim Reynolds and the South High Class of 1968 — SouthHigh68.com — click the address and sign in. Call me if you have any questions. If this is a duplicate message, please disregard.
====================================================
In August we decided to send texts to all the people who had signed onto the website but had not committed to attending the events. Here's what that one looked like. Interestingly, almost every person responded to the message, though not all of them could attend. By the way, I got the idea of constructing the message this way from the romantic comedy, When Harry Met Sally.
====================================================
Hi, this is Jim Reynolds. I'm the guy running the website for our South High Class of 1968.
I'm sending out texts to all those who have participated in the site but still have not signed up for our reunion events. At least not yet.
At this point (August 8, 2018) we have 116 going to the reunion, 78 to the Meet & Greet, and 15 golfers.
Could you please respond to this text message? A short one line response is all we need.
Here are some possible responses:
A. Sorry, I am NOT planning on going to the reunion. Please do not send me any more emails, texts or paper mails about this. (Nothing wrong with this reponse.)
B. I think that I'll go but can't commit just yet.
C. Probably won't go, but keep sending me stuff just in case. Don't send me a flyer.
D. Please send me a US Mail flyer. I'll fill out the form and send in my check. (include your current address)
E. I'm stuck under a piano and can't get to the phone right now.
If we don't get a response to this text message within a day or so we'll follow up with a US Mail flyer.
Thanks for your time and consideration. All the details are on the website.
Jim Reynolds
[my number and email address]
======================================================
The idea of this message was to build on the early success that we already had and to let people know that there were going to be a lot of people there. Nobody wants to miss out on a once-in-a-lifetime party.
That pretty much does it for our text messaging story. It worked well and I learned a lot in the process.
I think I have one more short installment regarding our communications. You may find useful and possibly interesting stuff in there.
And yes, we finally broke down and bought some stamps!
You must be logged in to submit this survey. Please use the login box in the upper right corner.
| | |
| --- | --- |
| 1) | So what did you think about the texting story? Pretty cool, am I right? I know I learned a lot through my experiences in this area. Who would have thought 50 years ago that I would be contacting people today about a 50 year reunion, using instant messaging? It boggles the mind. |
Flying Saucer Cookie Recipe
We received this recipe from Cheryl McLemore a ways back. It makes a dozen cookies.
Cream 1/2 C of shortening with 1 C of sugar
Add 1 beaten egg, 1/4 C of honey, 2 Tbs of milk, continue creaming.
Wash, Soak and Pat dry 1/4 C of raisins, add to creamed mixture along with 1 1/2 C Old Fashion oatmeal.
In a separate bowl sift 1 1/2 C flour, 3/4 teaspoon baking soda, 1/2 teaspoon Allspice, 1/2 teaspoon cinnamon, 1/2 teaspoon salt. Add to creamed mixture by hand not in an electric mixer.
Measure 1/4 C onto a greased cookie pan or parchment paper works best.
Use bottom of flat water glass dipped slightly in water and flatten the dough.
Bake @ 300 degrees for 10-15 minutes, ovens will vary. Cookies will b a delicate brown. Let them cool wrap in plastic wrap.
They freeze well.
Here is a phone photo of a California story on the Flying Saucer recipe: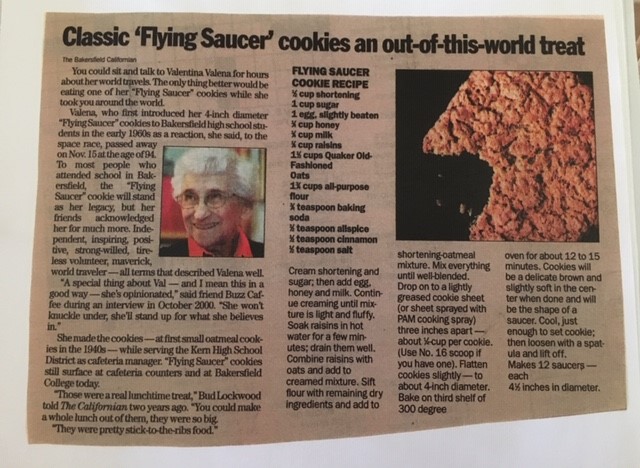 You must be logged in to submit this survey. Please use the login box in the upper right corner.
| | |
| --- | --- |
| 1) | Did you find the Flying Saucer Cookie Recipe useful? |
How To Pick Up Women: Ancestry.com (3-15-2019)
Do I have your attention? Good!
This isn't really about trying to get a date with a girl you may have an interest in.
However, it is clearly impossible to pursue a love interest if you can't find the person you are looking for!
When you are trying to discover where people are so that you can invite them to a reunion, women pose special problems.
They start out just fine. But then many of them get married at some point and start changing their names. This complicates a searcher's life.
Finding them would be easier if they did not do that!
Men, by contrast, are uncomplicated brutes who pretty much keep one name their entire life. Unless their last name is a common one like Smith, Jones, Brown, Rodriguez, Sanchez, etc., you can generally find them through WhitePages.com.
Now I'll tell you what you can do with Ancestry.com. It takes a while to get the hang of it, but once you do it is an amazing tool that I have used many times.
For most women, unless they did not marry, the only way to find them is to figure out when and where they were born. Lucky for us, 90% of us were born in Bakersfield in 1950. So what you do is start by looking up the female classmate by their "high school" name and birth year of 1950 (or 1949), born in Kern County. If you find them there, now you know the mother's last name, actual birthdate and the all important middle name. These are all clues that will enable you to discover where they went in life — and how and when they may have changed their last name.
So let's say she starts out as Sally French, born April, 1950. She gets married in 1969 to Joe England. She changes her name to Sally England. Now you start searching for Sally England. She divorces Joe in 1978. Now you need to search for Sally French (changed her name back) or Sally England (kept married name). She may get married again and either change her name or not. Repeat until done.
I think the record in our class for last name changes is six.
The worst case is when Susan Jones, who was not born in Kern County, marries John Smith in Las Vegas, then divorces John and marries Frank Williams in Toledo. You will never find this person. Too many matches will turn up in a search. A middle name could help here, but probably not. It will be hard enough just finding out where Susan was born in the first place — if not in Bakersfield, you are set on a wild goose chase.
Incidentally, we live in the migration flight pattern of Canadian geese here in Nevada City, CA. They circle around high above our house in huge flocks, making all kinds of racket. I can't imagine having to chase one down on foot.
With most female name searches you will eventually get to the end of the line, which hopefully is their last name change. But often it is not that easy. Some people get remarried but hold onto a previous last name. Some get divorced and switch back to some other previous name. It's an imperfect science, but so are our lives. Some people even create a new last name! Just pretend that you are Hercules Poirot on the Orient Express, which we watched the other night.
It also helps if their first marriage was in Kern County, just so we can follow them. Most are, some are not — like me (Santa Barbara).
Though men don't change names through life, it is also important to find their birthdate through Ancestry.com just so you can get their middle name. If they move to other states you still have a chance of tracking their marriages and such. The intention is simply to find out where they might be now. That way we can use WhitePages.com (WP) to zero in on a contact info search.
For many people, particularly men, it is quickest just to do a WP search for the guy living in Bako, age 68. No need for Ancestry.com in those cases.
We found a lot of women in our class through Ancestry.com.
Next time we'll complete this topic by talking about Facebook, texting, and the US Mail. Each of these helped us in our quest to find you.
By the way, for those persons who are reading this but are not part of our class, you have just received really great information on how to have a successful reunion of your own. The "secret sauce" is a secret no longer.
You must be logged in to submit this survey. Please use the login box in the upper right corner.
| | |
| --- | --- |
| 1) | Now that was pretty cool, wasn't it? Just another important part of the "secret sauce". Please leave us your valued comments. We really like reading them. |
The Key To Our Success: TURNOUT!
The definition of turnout is: "the number of people who participate in or attend an event".
In our case, I realized from the start that the people WERE the event.
So I made sure that we did everything possible to focus all of our efforts, especially at the start, on maximizing our attendance.
We even adopted a motto: "Everyone deserves a 50th reunion!"
In the first 5 minutes of the first meeting I asked: "What kind of reunion do you want? Are we going to find every person that we possibly can or are we just going to contact all our friends and call it good? If you don't want to go all out then I am done here. Make a few calls each, get 50-60 people to show up (mainly locals), and have a good time."
Face it, that's the way most reunions are conducted. That's why they have a reputation for being "cliquish".
Definition: "befitting or characteristic of those who incline to social exclusiveness and who rebuff the advances of people considered inferior".
Whatever "cliquish" is, I wanted our event to be the opposite of that.
I wanted to contact a lot of people who would say: "Reunion? I've never been invited to one of those before. Let me think about it".
The first thing we did was broaden our list of potential attendees to include not only those who graduated on the football field June 6, 1968, but also those who were our classmates throughout our school years. West High transfers then became part of our class, as did people who dropped out of school early for whatever reason. This resulted in numerous surprise, out of the blue phone calls to unsuspecting citizens! Nancy Limi, Tony Melo, Sam Louie, Tina Willey and Willie Stubblefield all fall into the category of "didn't graduate with us but are still solidly in our class".
The basic engineering method is "divide and conquer". In our case, we divided the class list into "blocks" of about 30 classmates. Each person on the team was assigned a block. Their job was to find as many people in the block as possible. Most of the team attempted to fulfill this responsibility, with various levels of success. A few did nothing due to lack of interest or internet savvy.
Internet savvy? Why was that a factor? I purchased software tools that enable you to find people. The first one, PeopleLooker, appeared to be ok at first but then we discovered that though it returned a lot of possible phone numbers, street addresses and email addresses, most of these results were not very accurate. Because you could only have one person use it at a time, we set up a schedule so that each person had their own time slot. I didn't realize at the time that almost all of the team only used a cell phone to access the internet — none of them had an actual computer. I found that out later.
We eventually switched over to WhitePages.com, which I still pay for on a yearly basis. I also found out that it was easier for me to do the searching with WhitePages.com and then hand off the most likely "hits" to another team member to make the actual contact.
The first four months (March, April, May, June) were consumed with this work. Every meeting we would focus on who we contacted and where people needed help. For many on the team this was not a pleasant job and they felt uncomfortable doing it. That's why most reunion committees don't do this — it's hard work. Imagine cold calling all afternoon and only making one or two good contacts.
It gets pretty frustrating — I really appreciate those team members who stuck with it. It made the difference between a so-so reunion and an obvious success.
A few final comments before I close this portion of our story.
The email addresses we found were almost useless. They were either out of date, wrong, or you were blocked by a spam filter when you tried to use one. We almost never got meaningful responses through email. That was a small surprise.
Phone numbers were not much better if you tried to call someone. About 25% were disconnected and out of service, 25% just rang and rang, 25% allowed you to leave a message on an unidentified voicemail (rarely returned), 15% let you leave vmail to an identified person, and the final 10% were actually answered by a human. That human was usually the wrong person!
The picture that I'm trying to paint is this: We were working as hard as possible to make contact with every single person in our class. You can imagine our elation when, months later, those initial contacts turned into real people attending the reunion! This is the work that you never saw and probably never thought about. As I've already stated, It made all the difference.
Do you know what was the most effective way to contact people? I'll let you think about that then give you the answer in the next installment.
We'll also talk about the most amazing tool that we used: Ancestry.com.
By the way, our non-classmate readership has really gone up since I started talking about how we achieved our goals. Anybody can read these announcements — I don't protect them. We have over 23,000 curious people out there.
You must be logged in to submit this survey. Please use the login box in the upper right corner.
| | |
| --- | --- |
| 1) | Was this part of the story interesting? Please leave your comments here. I am really curious about what you have to say, as I am going out on a limb providing so much detail about the inner workings of our enterprise. Thanks, Jim Reynolds |
The Secret Sauce: Why We Were Successful
Why was there so much excitement at the reunion?
Steve, the music guy, told me that he had never seen this much excitement at a reunion before. And he does this for a living!
Steve told me before the event that "Just wait until about 9:30. There will be about 5 people slowly moving around on the dance floor." There were probably 50 dancers out there after 10:00PM, and many others carrying on animated conversations out in the table area.
Meanwhile, Diane, at the Crest, couldn't get over the level of energy all night at her venue the night before. She had never seen anything like it!
I just got off the phone with my old friend Mike Martin and we got to talking about the reunion activities. He said, "I went to two events. In each one I walked in, started talking to people, and the next thing I know they were closing the place down and asking me to leave!"
It was almost a sensory overload for many participants.
So what was it? How did the magic happen? What was the special sauce that brought all these people together for two days in 2018?
Why did so many people travel hundreds of miles to enthusiastically participate in these events? And then not be disappointed?
I, Jim Reynolds, think I know exactly what it was that made this happen. It was not by chance. It was not a random comet-like event.
It didn't happen by a lot of wishin' and hopin'. We basically threw away all tactics that had been used before to organize our reunions.
But as sure as there are stars in the sky, this incredible two days was going to happen. We just did not know just how BIG it was going to be.
I must admit, we, Vicki and I, were even surprised by the whole thing. You people are amazing.
You will need to tune in tomorrow to get the definitive answer as to "Why Did It Work So Well?"
If you prefer logic, then you will love this explanation.
If you like inspirational stories then you may find yourself tearing up by the end of this tale.
In January of 2018, we had absolutely Nothing. Nobody on the Bakersfield front was doing anything about a 50th reunion. By mid-October there was Something.
Something from Nothing. That's what happened. Now for the details.
By the way, for those close followers, I have not forgotten about "The Donation that Rocked the Nation". That's an amazing story all by itself. True colors exposed for the world to see.
The Tools That Helped Us Build SouthHigh68.com (3-10-19)
I love this class. Have you noticed?
Some people have commented that it looks like I am ready to leave the website, since I am telling you all about how it was built.
As inviting as that seems at times, this is not the case. At least, not for now.
With that said, my detractors are letting out a loud simultaneous groan of intense anguish. Sorry about that, detractors. If you are going to be anything besides a bump on a log, you will always invite controversy and annoy people from time to time. It comes with the territory. As my father used to say, "It's easy to be a nice guy. Anybody can do it. It is difficult to be interesting". He was right. With those words of encouragement, I continue forth.
The ClassCreator (CC) system gives us all types of tools and templates to build a class website. They claim that 20,000 classes have used their software across the world. The software has been updated and improved over time to meet the needs of a wide variety of groups. With that kind of endorsement the CC people should give us a discount!
The following items summarize the ACTIVE roles that are available to Admin level people. I was the only person on the project that utilized the ACTIVE functions to build the website.
Here's what I used to make this happen:
Edit Site Pages This is where you add all kinds of different types of pages to the site. Even announcements, like this one, start here. In fact, announcements are just another part of the Home Page. I think that I have done at least 200 announcements. Sometimes I even include a survey or add photos.
Manage Classmates Admins can go in and see all of the personal contact info that you entered here, or add it ourselves if you have not. The personal info is closely guarded and not given out to third parties. At this point we only have three Admin level people for this site. This may change soon. We also add In Memory pages for our deceased classmates here. We added over 70 in this category and tried to include meaningful biographical information as we discovered it. There is nothing light hearted about adding another person to the In Memory pages, but somebody has to do it. We thank other contributors, like Vickie Burke (Shallock), for their efforts in this area.
Email the Class As you know, I also use this a lot. I try not to overuse it because it loses its effectiveness if overdone. On the other hand, Home Page announcements go unread unless we get your attention, somehow.
Change Design, Preview Layout, Customize Design These are all functions that I could use but so far have not. My emphasis is on content, not looks. Kind of the way I was in high school. For instance, the stuff at the top of the page is just default 1960's stuff — Kennedy, Simon and Garfunkle, Mustang, Peace, etc. I did not create that. The government did. That's just a quick joke. But I'll be happy to take credit for it! Thanks.
Event Planner This is a biggie. Here is where the 50th Reunion, Meet & Greet, and Golf With Gary were launched. I was able to set dates, set prices, accept credit cards or checks, allow you to enter guest names, and other related information. This is the engine that drove our events. It was easy once you got the hang of it. I could put an entire reunion and related events together in one evening using this functionality. When do we want to do that? Vicki just hit me over the head with a spatula.
Product Manager We could have sold coffee mugs, T shirts and other crap if wanted to. We decided not to use this. Maybe next time.
Gallery Creator I used this to create the photo pages in the Senior Photo Pages and the Our Teachers and Staff area. It is pretty cool but has its plusses and minuses. It will play the photos in auto mode and that is a nice touch.
Donation Manager This was very useful and allowed us to solicit donations for various "causes". The most controversial donation page was the one I constructed for the funding of this website into the future. More about that story in the next announcement entitled, "The Donation that Rocked the Nation!"
There are lots of other things that an Admin can do on this website to build a great experience for you, the users of the site. I've been extremely happy with this entire system — and I've only just scratched the surface of what it is capable of doing for us.
But as I have said before: 95% of the work has already been done. It just had to be done once. At this point It is just about adding new events, products, donation pages, or just comments and "Happy Birthdays".
Thanks for staying with me as I explained the wonderful world of website programming. There will be a quiz next week.
Did I mention that I love this class?
You must be logged in to submit this survey. Please use the login box in the upper right corner.
| | |
| --- | --- |
| 1) | After reading all about the website, do you have any comments? Was it interesting? Boring? Informative? Necessary? Puzzling? Entertaining? |
What You Can Do If You Are An Administrator on This Website
I tried to come up with a less boring sounding title, but this is the best that I can do!
I am now going to tell you how the site was built and what tools the ClassCreator people gave us to create SouthHigh68.com.
I will do everything possible to keep your interest. Yes, it is a bit geeky, but details are what make the world keep spinning.
First of all, there are ACTIVE roles and there are PASSIVE roles for administrators. If you are performing an ACTIVE role then you are actually building pages on the website. You are adding content (pictures and documents). You are transferring money to the bank account. You are emailing the class. You are scanning photos and posting them to the appropriate place.
If you are performing a PASSIVE admin role then you are mainly just looking at things that a USER level person (all of you) can't do. An example is looking at the latest logins to the site. Admins can do this at any time. However, I found it interesting enough that I decided to incorporate this information on a weekly basis so EVERYBODY could see what's going on (Who's Been Online?). So that's an example of a PASSIVE Admin role being replaced by something that is available to everybody in a limited way. The only other PASSIVE admin role that I can think of is watching the money come in through online transactions. That's kinda fun.
I was the only person that performed ACTIVE admin level functions for this website. That is, I was the only person that contributed directly to the construction of the site. However, at least 15 other people on the former committee had full Admin access to the site for several months. My thought was that they may decide to pitch in and help build it. This never happened and I don't hold it against anybody. They just weren't equipped with the proper technology background to feel at ease in this building role. That, and they probably did not have a lot of desire to get involved at that level.
Are you still with me? Good.
I should make another point here before I alienate too many people. Many of you made "indirect" contributions to the website, and these are all welcome. Anybody who sent in photos, uploaded photos, gave me a thumbdrive with great content on it, sent in actual paper photos, or even made interesting comments are contributors to the site. However, I'm the only person that added new pages and topical sections to the website.
Before completing this Part 1 of 2 message, I need to mention the scanning process. Some of you took iPhone pictures of your photos and then sent those in. This is ok as long as you don't want to zoom in. Enlarging iPhone photos does not give you the detail we really want. But it suffices in many cases.
All the scanning was done by Vicki May and myself. We have 4 scanners that we run simultaneously when we are on a big project. And there are a number of tricks you need to employ — like "overscanning" little yearbook photos to give them adequate detail on this website. In other words, scanning at 600 DPI (dots per inch) will allow you to enlarge a senior photo 200%. However, it takes twice as long to scan at that resolution.
The FIRST thing we scanned? That would be the 400 or so senior photos. What? You thought that they just "showed up" on the website, with zero labor involved? Next, came the teachers — another 200 or so. Then Merrimacs, Rebel Yells, Past Class Reunions (many in there), a huge scrap book, and various other old photos.
The good thing about all this scanning? It has all been done already. It does not need to be done again — ever.
Thanks, Vicki May!!!
Why did we do all this scanning and posting in the first place? One reason: we wanted to keep YOUR interest level up so that you would feel comfortable signing up for the reunion activities. That's all there is to it.
I think that we succeeded, so thanks to all of you.
I'll tell you about the cool Admin level site-building functions tomorrow.
Who knows? Maybe one of you bright people would want to take over my role in the future.
What YOU Can Do on the Website (3-7-19)
Last time we talked about why I built the website (a way to collect money and a way to store and organize your information).
We also established that Vicki and I funded the website for the entire first year. You are all our guests on SouthHigh68.com! The site was built specifically for our class of 1968.
Did you know that the ownership of the site will change soon? More about that later.
Many of you have figured out how to do these other things, but I'll quickly run through them. Here they are:
1. Follow What's New to see who is commenting about whatever. Join in if you please. These comments will show up in your profile, or somebody else's depending on how you enter them.
2. Start or join a thread in the Rebel Forums. You can start a conversation on any topic you wish. I have one called Admin Blog that has been visited by over 600 people.
3. Look up anybody in Classmate Profiles. See what they have to say about themselves or send them a private message. Hundreds of private messages have been exchanged in the past several months. Nobody can see the private messages except the person you are conversing with.
4. Go to the Home Page to see the latest announcements, like this one.
5. Access information about deceased classmates through the In Memory section.
6. Find out who we have not located yet through Missing Classmates.
7. Access hundreds of photos and documents through the many other options on the main menu.
That's a brief outline of what is possible with what we call USER LEVEL options.
In the next installment I'll talk about ADMIN LEVEL options. Administrative functions are what enabled us to build this site so it could support our short-term and long-term goals.
Thanks for your interest. Can you see why FaceBook just would not have met our needs?
Why Did I Build www.SouthHigh68.com? (3-5-19)
Back in early March of last year (2018), I realized that we had a couple of big issues to resolve if we were to have a successful 50th reunion.
The First Issue: How were we going to collect money for our events? Without funding, there could be no events to plan for. Down payments, deposits, reservations, music, photography, food and everything else takes money up front, in many cases. Otherwise your potential venues and people start to slip away.
We had no money whatsoever. We started from scratch. Apparently, prior reunions had no money left to pass on to our effort. So presenting to our class an easy way to sign up (and pay) for our events was crucial to our ultimate success. Behind the scenes, we needed an easy and proven method to build the web pages that you used to sign up for the reunion. We also had to find a way to get all the money received transferred to a bank account. Otherwise, we had no way of writing checks to pay for everything (once we had money in the account).
The Second Issue: How do we keep track of all our classmates, whether they decided to attend our events or not? Originally, my initial Bakersfield contact, Gary Plotner, offered to have his office (actually, Jenny) keep track of all classmate information - addresses, phone numbers, their events, etc, etc. This was to be done using an Excel spreadsheet. Excel is great and I use it all the time. However, it is a single user system. Only one person can update the spreadsheet at a time. All others will be locked out while the spreadsheet is open. Also, this would put Jenny in the unenviable position of fielding all calls for all updates. I have a lot of experience with huge databases distributed over corporate networks (I designed these databases), servicing multiple users simultaneously. I realized that what we needed was a real database to hold our classmate information.
So I thought to myself: this sounds like a couple problems that have been solved before by an enterprising software development company, somewhere. If I could find a solution that caters to class reunions, specifically, then I'll need to try it out and see if it fits our needs.
I looked around and found at least three possible candidates. After reading all about them, checking out their demo programs, and evaluating the reviews (of course), I selected ClassCreator.com. I presented this system to the former committee and basically told them that I thought this would help us create a successful experience, and why. There was no vote. This was pretty much a unilateral decision, not the first one I would make on this project. I know now that if they had strongly objected, I probably would have walked off the project — that's how strongly I felt about this. We were starting very late (people in Bako had done nothing about the 50th up to that point) and I knew that we needed all the help we could get.
It probably helped that Vicki and I paid for the entire first year for this software system that gave us so much. In my estimation, using this specialized software was the SECOND most important reason that we were so successful. We'll talk about the MOST important reason at a later time. Hint: it was not a person.
Result:
The ClassCreator software templates made it relatively easy (for me) to build and customize event signup pages, enable credit card payments, track the funds, and transfer those funds to a bank account (which, by the way, I had no control over).
The purchased system also allowed us to enter your information into a single database. In fact, it was even better than that: THE SYSTEM ALLOWED YOU TO ENTER YOUR OWN INFORMATION INTO THE DATABASE! This was a huge factor in obtaining and consolidating information from 400 classmates.
So now you know why we built the website. Originally, it had nothing to do with posting comments on birthdays, announcements on the Home Page, news about deaths, or allowing you to access historical photographs. It was all about gathering your contact and (protected) personal information and providing a way to collect money from those who wanted to go to the reunion activities.
It's turned into something much more than that, but those were our original reasons for doing this.
Stay tuned. There is MUCH more. I'll make it interesting for you!
Let's Talk About the Website (3-3-19)
Now that all the M&G photos are out there, we are going to focus on the www.SouthHigh68.com website.
We'll get back to the Reunion photos, which are even better than the M&G images. But for this week, we'll stick to what this website is all about.
The site has developed a life of its own. Over 22,000 people have visited the site from across the world, most of them having nothing to do with South High. Look at the map at the bottom of this page to get an idea of who is visiting. The dot in southern Africa is Tommy Molinar, by the way.
The non-classmate visitors are just curious about how we communicate with each other and how we keep this thing going. Most class websites tend to die out after a major event (50th reunion), while ours appears to be getting more popular as we go along. The numbers don't lie.
I think there are two major factors as to why we keep generating interest: 1) We went all out to attract the most people possible to our 50th reunion events. This created a pool of people with shared interests who have a connection to our class. Publishing great photos from our successful events is intended to spark that common interest even further, while making those who could not participate feel more "included". 2) I continuously try different strategies to keep you coming back. I can tell on a daily basis if what I published on the web worked or if it was a failure. If it worked, you get more of it. If it failed then I'll try something else. This is EXACTLY what Google does, believe it or not. The primary difference is they are looking at revenue streams while I only care about nonmonetized internet traffic. I just want you to keep coming back.
So this week I'll talk about the following:
1. Who's idea was it to have a website?
2. Why was it decided to have a website?
3. What the website gives us.
4. What surprises came out of the website?
5. How much of the money generated for the reunion events came through the website? (Hint: 100%)
6. Are there parties who feel threatened by the existence of the website? (Yes)
7. Who owns the website?
8. Will the website ownership be changing soon? (Yes)
9. How long will the website exist?
10. What are all the things that an administrator can do on this website?
11. What are all the things that a normal user can do on SouthHigh68.com? You might be surprised.
12. What can a non-logged in user see on our website? (Try visiting our site without logging in and you will find out)
13. Why didn't we just use Facebook?
Part of what Vicki and I will concentrate on this year is finding the other 200 or so people in our class.
This is not a full-time job. It just takes a bit of rigor and clear goals. If we retrieved 10 out of 200 we would consider our efforts a success. We spoke to at least 20 people last year who just were not interested in our planned activities. We'll probably give them another shot, just because we NEVER GIVE UP.
Some people just don't want to be found. Some people just want to be left alone. Some people don't want to see people from their past.
And some people just died alone and nobody seemed to notice. We'll explore all of these scenarios.