ANNOUNCEMENTS
Update on the Edited and Named M&G Photos
As I expected, this is not a quick and easy project. The eventual end result will be great, however.
The basic photos are good, but they need to be cropped down to their essentials. More importantly, we need to know who all these people are. This will be especially valuable for those who were not able to attend the Meet & Greet function on October 12, 2018.
Once all the editing is done, I'll eliminate shots that are really just duplicates. I'll pick the best one and keep only it. This will cut down on the sheer size of the photo collection and make it more interesting. All the (unedited) photos are still available to anyone who wants to view them on Marsha's site.
Some photos don't need any editing. These are mainly the wide shots showing many people involved in various simultaneous conversations. In those cases, the focus is on the event itself, so there is no reason to crop them down. These are fun because you may be able to pick yourself out in the background and possibly recall what you were doing and who you were talking to! This was a very animated crowd. Just look at the expressions.
But most photos have something that is obviously of primary interest: a couple of old friends talking; three guys rehashing old times; five women posing for an "old high school friends" shot; a man with his loving daughter; me hugging Vicki. In those shots the idea is to eliminate everything in the photo that distracts your eye from the main purpose of the photo. You have already seen this in the Reunion edits that we did. It makes a difference. If you can't see this then I can't help you.
Once everything is edited, the process of identification begins. We'll see how that goes. I know about 90% of the people by now. That last 10% may be a challenge.
So I'll keep at it, little by little, until it's done. It's a "side project" at this point. On my list, but not at the top of the list.
Much to do up here on our 20 acres in Nevada City, CA. We've brought in a couple loads of wood to burn in the fireplace during the past few days. I discovered a huge downed oak tree up one of our ATV trails. We'll concentrate on cutting that up while the weather holds. Went out and took pictures of it today. Probably a two-week project. The trunk is about five feet across so we'll be using our biggest saws to buck it up. The rounds will be too big to transport so I'll need to split those up out on the trail, then trailer them back behind the Polaris. I've done huge oaks before, but this is the biggest. So that's fun.
Also, had to do a lot of vehicle maintenance since coming home. That kind of stuff doesn't go away just because you aren't around!
It's great to be home after being gone for over two months. Yesterday I sang with four others at a service for my brother's 102 year-old mother-in-law. It was a beautiful 5-part arrangement of Psalm 23. If anybody is interested I'll post the recording.
Happy birthday month all you fellow 69 year-olds! Compared to 102, we are all just kids.
Sara Hitchcock (Watson), George H W Bush, Barbara Bush and Jim Watson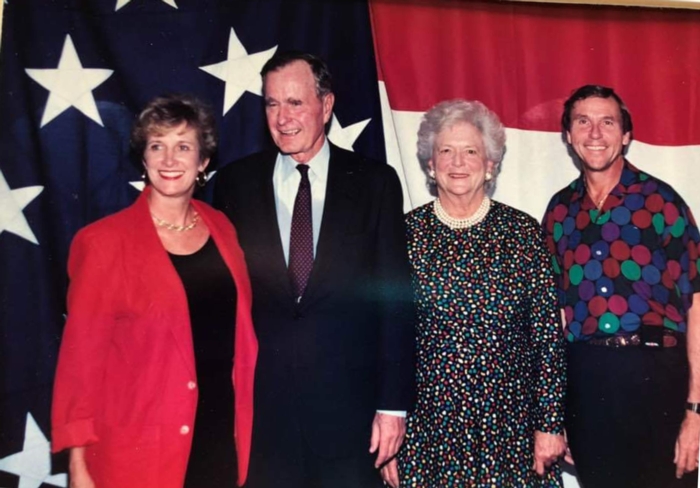 The law firm of Borton Petrini in Bakersfield created the Bakersfield Business Conference many years ago. Numerous luminaries in many fields have spoken there, including George H W Bush and my uncle Andy Rooney. In 1994, Sara and Jim Watson had this photo taken with the Bushes. Doesn't everybody look great?
Sara's father, a lawyer with Borton Petrini, had much to do with organizing these events, all of which brought positive acclaim to our town of Bakersfield.
I'll post our Andy Rooney photos at another time. He really was a likeable curmudgeon. If you have a "brush with fame" photo, please send it along, with a story, and we will post it here.
Hey, Sara, thanks for sharing this with our class. This was a great moment.
December Birthdays
If you look over on the right hand side you will see all the upcoming birthdays.
These are, for the most part, all the old people in our class. I'm one of them.
It is difficult to say with precision, but it appears that our age group for this class of 1968 was born between December 1, 1949, and November 30, 1950. There are exceptions to this rule, and one of the people on the sidebar list is one of them. I'll tell you who that is in a minute.
People who were born between December 1, 1949, and December 9, 1949, have fallen off the list so I won't comment on them. They are REALLY old.
In later years they changed the kindergarten dates to scoop up children earlier. I think that now it is more like September 1 for the earliest born to be in a particular class. I'm not sure why this happened but probably had something to do with state funding, which is how public schools get paid.
So here are some of our oldest classmates. Please pay respect to your elders. They are all turning 69 years old this month. Hard to believe, really.
Gary Barnes: Dec 10, 1949
David Frye: Dec 11, 1949
Nancy Limi: Dec 17, 1949 - she actually did not specify the year in her profile
Jeffrey Leong: Dec 19, 1949
Mike Obee: Dec 19, 1949
Bobbie Deschwanden: Dec 20, 1949
Alan Shackelford: Dec 22, 1949
Carol Shields: Dec 24, 1949
Jim Reynolds: Dec 25, 1949 (2:30 AM)
A special note here about Suzie Heinrichs — she was born on December 17, 1950! She always seemed pretty smart so maybe she skipped a grade like Herbert Jung, who skipped 2nd grade and landed in my 3rd grade class at Franklin in 1958. Or maybe she just wanted to start kindergarten early. Maybe we will find out what happened.
I believe the people listed above reflect a more mature group than the rest of the class.
What do you think?
UPDATE #1: Sue Heinrichs told me that she skipped second grade. I always knew that she was a smarty-pants. Mystery solved.
Admin Blog
Want to know what we are thinking about doing next?
We'll also keep you informed about what happens on our motorcycle trip through the Southwest (Oct 24 - Nov 16).
Make sure to subscribe to the Admin Blog thread so you don't miss anything. Do this at the bottom of the Admin Blog page.
Go here and read about it. Rebel Forums
You will see Admin Blog on top because it is a "Sticky" thread. To go to the latest post in Admin Blog just hit the "Last Post" message on the right.
Make suggestions if you like.
Hello South High Class of 1968!

South High Class of 1968
7850 White Lane STE E #386
Bakersfield, CA 93309