ANNOUNCEMENTS
Weekly Update #8 (February 21, 2019)
I wanted to get the last of the M&G photos out but had to put that on the back burner.
At least I have a back burner that works, thanks to my emergency propane tank. Been using that 9 gallon cylinder for 6 days.
The photos will be out soon.
Spent a lot of time bringing the In Memory commentaries up to date. It is just something that needed to be done. Please add your memories and comments.
We only have a couple where there is no information available, at least not yet. I can't find anything on Carla Crevier, for instance.
On a happy note, we determined that Cozetta Gray is NOT deceased. She was born 7-21-1950 and is now living in Oakland. Not sure how or why she was put in the In Memory section in the first place.
Check out Eugene's birthday photos in the What's New area. There were many to choose from since he was such an active athlete at South.
Who's Been Online? (February 20, 2019)
If you go to this page you will find out.
It turns out that quite a few people are checking in on a semi-regular basis.
Here's the graph: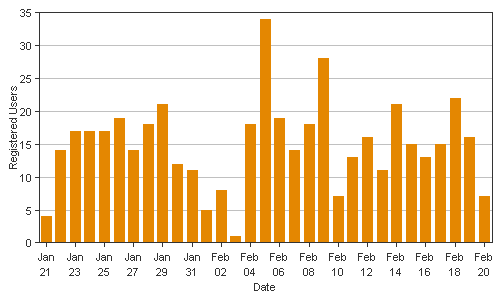 Here's what it looked like last week. Time marches on.
Hello South High Class of 1968!

South High Class of 1968
7850 White Lane STE E #386
Bakersfield, CA 93309