ANNOUNCEMENTS
============================================
We have had 34,400 visitors to www.SouthHigh68.com.
============================================
10-10-2020 Birthday Party Survey Results
We did this survey a few weeks ago.
I told you about the results but never showed you the actual responses.
Here they are, all 40 of them! That's a big number for participation in a survey.
Some of you are steadfastly avoiding answering all surveys. Not sure why that is, but probably has to do with all of us being constantly bombarded with input requests. I can understand that.
But this is different. We aren't trying to sell you anything, really.
Every response tells us what is working and what is not working. We prefer things that receive a positive response.
As you can see, your responses are anonymous to the class.
Go HERE to see what the class thinks about 10-10-2020.
Show Me the Money
Go HERE to see the rest.
You must be logged in to submit this survey. Please use the login box in the upper right corner.
Allow Others to Join www.SouthHigh68.com?
I get requests from those outside of our class every once in awhile.
In fact, I've already included several in the past.
But we need a "policy". A consistent rule that we can follow.
First of all, they would not be part of the actual class roster. They would be officially known as "Guest Members".
Note that we have a number of these types of users -- you can view them at the bottom of our class list.
What could they do as a Guest Member? They get to see all the "privileged" content, you know, the stuff that you need to login to see. They could see your public profile (but NOT your private personal information). They could take part in surveys and participate in the What's New area. They would likely be people from other South High classes.
In short, Guest Members can do anything you can do.
Just thinking ahead, my guess is that the guests could also participate in 10-10-2020, but that has yet to be discussed. We don't know if that event will consist of me, Gary, Vicki, Jerry, Hud, and Ruben in a big room all by ourselves or if there will be 180 showing up! Maybe we will get Wal Topic to blow into town from Florida, too. I think that we have already established a precedent: Pam Bailey was a participant in 2018.
But there is the potential downside, too. Should we water down our "exclusivity" that we enjoy now? Keep it "special"? Or is "more the merrier" the proper way to look at it?
Here's a typical request:
Hi Jim - although I'm not technically part of your graduating class (I was a 'XX graduate) I've been keeping up with your website because there were many folks I was friends with in your class. I don't know if you allow non-'68's to join your website but I would love the opportunity if it exists. You have done an excellent job here and I so wish I could see all the pages allowed. Our class had our XXth reunion in October and it was miserable. Very poor planning, execution and follow through so I'm quite jealous of you and your planning committee. Please let me know your guidelines regarding allowing non-members access to the full site. Thanks and blessings on your day, [name withheld]
So there you are.
And by the way: Did you notice that we just passed 34,000 visitors to our little website? The "rate of acquisition", as we call it in the business, is actually increasing.
You must be logged in to submit this survey. Please use the login box in the upper right corner.
| | |
| --- | --- |
| 1) | Simple yes/no question that you can answer in 15 seconds: Should we, as a policy going forward, allow non-classmates to join our website and grant them the same privileges that we all share? You can always come back and change your vote at a later time. |
| | |
| --- | --- |
| 2) | And now you get to spout off about what you think of this idea. Be persuasive in your argument. |
Birds of a Feather....
.... flock together.
Learn a bit more about this powerful cross-species characteristic.
Also, some great photos.
And a couple surprises at the end. We have proof!
Go HERE to see a different kind of tweet.
You must be logged in to submit this survey. Please use the login box in the upper right corner.
| | |
| --- | --- |
| 1) | Comments? Say whatever you like but keep it clean. |
Denny Stewart Obituary and In Memory Page
Please go HERE and leave comments if you wish.
Political Cartoons from Townhall.com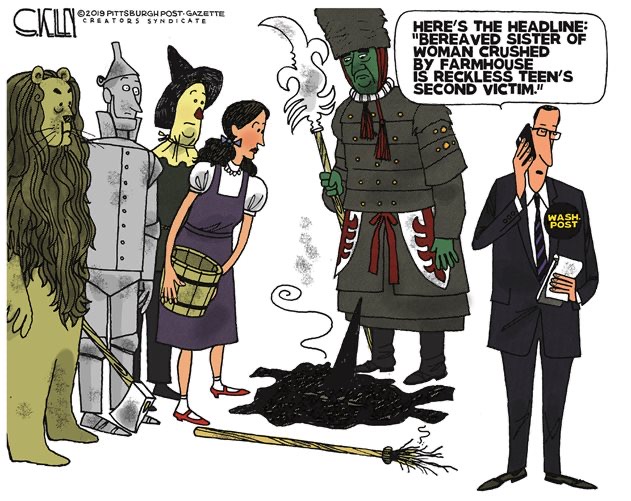 It is clear that Townhall.com is a conservative website. However, they have the best collection of political cartoons anywhere.
Cartoonists who work in this realm are incredibly talented. Though there are many artistic styles, the idea is to get the message across to the viewer through great drawings and minimal verbiage, in a way that is only expressible in this timeless medium. It is probably the most concise and effective way to communicate in all of printed (or online) media.
Put another way, drawings and a few words tell a story in a way that is unique to gifted cartoonists. That's why political cartoonists continue to thrive, despite tremendous upheavals in the newspaper business.
We are living in an unprecedented political climate, at least in America. Here is how these fine visual artists show us their interpretation of the events of the day.
If you are turned off to ALL political discussion then just don't follow the link below. But if you do follow the link, you don't get to complain!
I put on this site the type of information that I think you might be interested in. If you show no interest, then I drop that idea and move on to the next.
So, do you want a few laughs? Or possibly grunts of disapproval?
Then go HERE.
But come back to tell us what you thought about the 'toons.
By the way, I personally do not endorse or disapprove the sentiments expressed in these cartoons. It is just art to me. But I must say that there were more than a few LMAO moments generated by these 'toons. Some of these guys are so good it is scary.
You must be logged in to submit this survey. Please use the login box in the upper right corner.
| | |
| --- | --- |
| 1) | What did you think about that? Anonymous, of course. |
Impeachment Comments
Would you like to see what others have said?
Follow the link HERE to check out the responses.
Add your own comments below, if you wish.
Impeachment Inquiry Hearings: What Is Your Opinion? Do You Have One?
What is happening in congress, led by California's Adam Schiff, is like nothing I have ever seen in my lifetime.
It is so unique that I thought I would ask you about it.
So what do you think?
What will be the ultimate outcome?
Does it appear that the lawmakers are trying to find the truth?
Do you think any minds will be changed across our nation?
Are the witnesses being truthful?
Is this a fair process?
Are we getting weary of this process?
Which congress people are putting on the best performance?
What do your relatives and friends think?
Please think about it a bit and let us know.
I'll post the most interesting and/or thoughtful responses, anonymously, of course. Your identity will be safeguarded by me.
Just let it out.
You must be logged in to submit this survey. Please use the login box in the upper right corner.
| | |
| --- | --- |
| 1) | Everybody is entitled to an opinion. What's yours? If you answer you will get to see what others think. |
No Real Subject Here
I've been retired for about ten years.
I ask myself, "How did I ever have time to run my life before I was retired?"
I do tasks (jobs, chores) all day, every day, and I still don't get close to finishing everything.
Then stuff happens and you need to respond, immediately. The response can take a couple days of single-minded activity.
Like working on the generator that stopped working today. 12 hours of work and still no definitive result.
Or the truck that just stops working.
Or the water cisterns that somehow started leaking.
Or the piles of brush that need to be chipped up before the rain starts.
What about the huge stack of unsplit oak that we took down from the hill this summer?
Or the piles of videos that need to be edited and made into something enjoyable for others?
Then there is all the website related things that I have implicitely promised to you, our cherished audience.
It is pressure, but it is the kind of pressure that I like. Fix things, communicate with others, make somebody smile.
Our overriding concern in the past few days has been with PG&E. They keep cutting out our power, though our temperatures are moderate (low 70s) and the wind is almost nonexistent. This causes major problems for anybody living in the Sierra Nevada mountains. Our lives have been disrupted for no discernable reason. This has the feel of lawyers running the show.
So there you have it. I have not been inattentive to this site. I've just become overcome with life.
It happens. Many happy times ahead.
Vicki and I are healthy and doing well. That's all we can ask for, really.
You people are the best. Viva sesenta y ocho.
Jim
You must be logged in to submit this survey. Please use the login box in the upper right corner.
| | |
| --- | --- |
| 1) | Comments? This is conversational. Say anything you like. Anon, of course. I'll post good ones to the class. |
Over 130 Have Signed On This Year
Want to know who they are and when was the last time they accessed this website?
You will find this interesting.
But here is the best part: you also get a link to their profile page so that you can send them a personal note!
I challenge you to send a measly 5 messages to people of your choice.
I even give you a list of 20 example messages to send, some more appropriate than other.

Get interactive!
Or not. Your choice, as always.
Go HERE and make someone happy. Maybe even yourself.
Sorry, You Paid Too Much for the 50th Reunion
Did I get your attention with that headline?
I previewed this message with a few of you and received feedback on it.
Some thought the headline was a bit over-the top and abrasive.
So how about this one?
We Have Surplus Funds Due to Great Turnout for Our Events
What should we do with the money? Who gets to decide?
The purpose of collecting money for group events, like our 50th reunion, is simply to cover the costs of the planned activities and to make sure that the organizers don't have to cough up their own funds to make it all happen.
That's it. End of story.
If not enough money is collected then it is up to the organizers to cover the difference. That is, unless they can convince others to help out.
Well, we have an entirely different kind of situation.
We made too much money!
How can that be? We know that the 50th Reunion, at $55 each, is one of the most reasonable (cheap) reunion dinners ever organized! Heck, the class of 1969 is charging $100 a plate the last we heard!
And the Meet & Greet? We charged you the grand sum ot $25 per person to attend and scarf up on a myriad of appetizers (which you chose, by the way).
Even with prizes, extra furniture, payng for teachers and others, big time photography, entertainment, great decorations, cupcakes, and other extras, we STILL ended up making almost $1,500 on the reunion after all the bills were paid!
The surplus funds were generated by this website strictly through your ticket purchases. We didn't even try to sell cool memorabilia. Just "tickets" to events.
Should you, the Class of 1968, have some say in how these surplus funds are spent?
Do you want to save it for a possible 55th reunion? Would you attend such an event?
Should we let a locally based, unelected "new committee" decide what to do with the extra money that you contributed?
Would you choose to put it towards another upcoming event to lower costs and produce a substantially lower break-even point?
Should we just refund a small portion to each person who "overpaid" for the 50th?
Give it to a local charity? Which one?
How about using it as a way to avoid out-of-pocket expenses for event organizers? When it is over, restore the $1,500 to help get the next event off the ground.
A couple people suggested that we keep the $1,500 for the last person standing in our class to help with their funeral expenses!
Getting to the point, you are all part of the new "governing" group, all 165 of you who are online with us. You can vote, answer questions, participate in surveys, ask about things, make announcements, wish happy birthday, contribute to stories, make voluntary donations, and actively be a part of the class in a number of other ways.
And the best part? You don't have to be a local person to help guide this ship called the South High Class of 1968! You can live anywhere in the world and still be a contributing member of the group. Anywhere -- Florida. Oregon. Arizona. Texas. Africa. Arkansas. Oklahoma. Idaho. Washington. Anywhere up and down the Central Valley of California. (I know, I missed a lot of places, like the Sierra Nevada mountains where I live!)
How do I know that you are out there? Here is an example: An interesting story, photo feature or "funny bit" will generate 60-80 direct responses (logins) to the website over 2-3 days. You are out there and you are waiting for something interesting to happen.
The simple fact is, this is 2019, not 1968. This is our current reality, like it or not. This is our exclusive form of social media!! For communicating our thoughts and ideas, inspiring others, making people laugh, sharing our losses, or expressing views, it is a 1000 times better than any form of communication that we have had in the past.
When is the last time you sent a letter to a friend?
50 years ago nobody could have predicted that this type of electronic experience would become commonplace.
But here we are. Congratulations. Welcome to our unique and direct form of democracy. Your vote counts. You are not dependent on unelected officials making choices for you.
Let's make some decisions!
You must be logged in to submit this survey. Please use the login box in the upper right corner.
My Reunion Story, Part 2
I told you that there was another part to my story.
It is a bit more difficult to talk and write about.
Much of it was extremely unpleasant for Vicki and I. Just plain uncomfortable.
Do you really want me to tell you what happened, from my point of view?
Or is it best just to say, "Everybody had a good time and let's just leave it at that." ?
I'll go either way. But I am the only person that knows most of the details.
And as you all know by now, I know how to tell a story.
It is your call.
By the way, I could not be happier with the 4 volunteers we have had for "life stories". Each of the narratives is absolutely spectacular. I am so grateful for their willingness to share their life experiences with us. That is not easy to do. Each is special and each so different! Face it, we are all unique.
I'm looking for our next subject. Everybody has a story to tell. This is your chance. You will not regret it. Together, we will make this happen.
So let's vote.
But first, let me be clear about what "anonymous" means in terms of these surveys. It means that I will not divulge who voted for what. You will have to take my word for that. As an administrator of the website (there are three of us), I can see this information. Sometimes I even respond to you in a personal message. But we will not publish to the world anything that we say is "anonymous". And I trust the other two admins with my life. I'm married to one of them. If we had 20 admins I could not promise you anything in terms of secrecy. That's not how people work. Just look at our leaking nation's capital. So now you know. I think the only survey results that we published with names was your evaluation of the reunion. But they were 100% positive, so that did not seem to be a problem.
You must be logged in to submit this survey. Please use the login box in the upper right corner.
| | |
| --- | --- |
| 1) | Should I tell you about everything that happened after our successful reunion was over? Or should we just say: "It was a good reunion. Let it go". I'll go either way on this one. You get to decide. If you vote, you get to see the results. Otherwise you are in the dark. |
10-10-2020 is One Year Away!
That's 365 days and counting.
Much needs to be discussed and decided on.
In the meantime, you need to stay healthy and ready to go.
Make it a goal to be there. It's only going to happen once.
Read all about it HERE.
You must be logged in to submit this survey. Please use the login box in the upper right corner.
| | |
| --- | --- |
| 1) | Any comments? We will keep it anonymous. |
My Reunion Story, Part One
It's the beginning of October and time to take a brief look back.
I hold nothing back in my candid recounting of my experience with the 50th Reunion.
Well, not exactly. But you may get a chuckle or two from reading it.
On the other hand, did you know that there are about 33% of us who have no sense of humor? It's a fact!
I'll just assume that those humorless 33% never read these pages, anyway!
But if you have no sense of humor just consider it similar to not being able to carry a tune. Or having an inability to read a map. Or being color blind. It happens.
Check out Part One HERE.
What Do the Surveys Tell Us About Ourselves?
You will find this interesting.
Please read your responses to recent surveys and other inquiries. HERE.
The Last Group of 50th Reunion Photos
Here they are, almost a year after the fact!
Mostly dance shots, but a few other good ones, too.
Many fun shots in this bunch.
To check them out, go HERE.
What a Great Story!
Please follow the link and read all about Vickie Burke's (Schallock) remarkable journey through life, HERE.
Were the Photos Worth It?
During the early meetings with the former committee, back in March of 2018, I made a couple of "demands". After all, I was getting ready to dedicate several months of my life to this effort and I wanted assurances that my time was going to be well spent.
Here is what I asked for:
1. This would not be an event where we just invited our friends and that would be "good enough". If we, as a group, were not prepared to make a committment to locate and invite every former classmate then I simply was not interested in being part of it. I wanted to avoid the "cliquish" behavior others had seen and complained about in the past. Many classmates had never even heard about the other reunions.
2. We would commemorate this "historic" one-of-a-kind event by hiring a professional photographer. I told them that the candid shots of the other reunions were just not very good. In truth, they aren't. I simply wasn't going to let that happen this time.
I made some enemies by speaking the truth, as I saw it. Comes with the territory, as all of you independent thinkers surely understand. But I also finally prevailed and, after a rigorous evaluation and interview process, hired a competent photo team.
I received the original quote from the photographer and presented it to the committee. They insisted that we cut it back by at least a third, though they gave no justification for doing so. I told the committee that, according to my break-even analysis, we could easily afford the full price.
So I went back to the photog and we worked out a deal where she shot fewer hours by cutting out early from both events and showing up later at the start. I wasn't happy but my hands were tied.
The issue of hiring a pro photographer simmered for a few months.
So let's do the math. Yes, I taught math once. A long time ago.
The photography team cost us $1,200. The final product would be digital images, available free to everybody in the class. Just download what you want. $1,200, by the way, is less than 10% of the total cost of the reunion.
When you count the participants for the two big events it adds up to 318 paid people. Many (most) paid for both events.
$1,200 divided by 318 = $3.77 each. That's what each of you paid for all of the photos.
How many photos did they take?
They took 954 digital photos with professional cameras and related equipment.
How much did each professional digital photo cost you?
$3.77 divided by 954 = about a third of a penny each.
And now you get to answer one simple Yes/No question. Please jump in here. The answer will be anonymous.
You must be logged in to submit this survey. Please use the login box in the upper right corner.
| | |
| --- | --- |
| 1) | Was it worth it to pay $3.77 for 954 digital photos of the South High Class of 1968 50th Reunion? |
Ten-Ten-Twenty-Twenty
It is going to happen, whether we get 10 people or 200.
The party is on!
The birthday party, that is.
Let's just call it the South High Class of 1968 70th Birthday Party.
10-10-2020
You must be logged in to submit this survey. Please use the login box in the upper right corner.
| | |
| --- | --- |
| 1) | So what do you think of that? Give an answer and see what others have to say. |
| | |
| --- | --- |
| 2) | We realize that it is early and a lot could happen between now and 10-10-2020. But we'll ask anyway! Are you going to attend the South High Class of 1968 70th Birthday Party? |